Short Term Car Leasing trends
Background
Cars on Demand are a well established, automotive leasing company specialising in short term car leasing for durations of 1 month up to 24 months. With trends constantly changing in the acquisition or leasing of cars, we were keen to share our data to show the buying trends within short term car leasing in 2019.
Contract duration
Across a sample of 625 contracts, we found that 54% of short term car leasing contracts were on a rolling 28-day contract arrangement.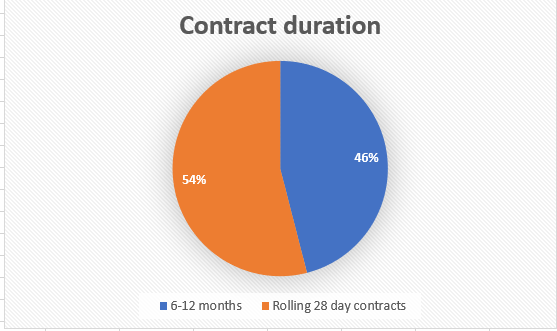 It is clear that consumers value the versatility that rolling contracts. Within the rolling 28-day contracts, the average contract duration was 4.5 months.
Car types
Within short term car leasing, the customers purchase at a 'car type' level which means that the turnaround for that particular vehicle grouping can be quicker than when they could have experienced should they stipulate a specific vehicle make & model.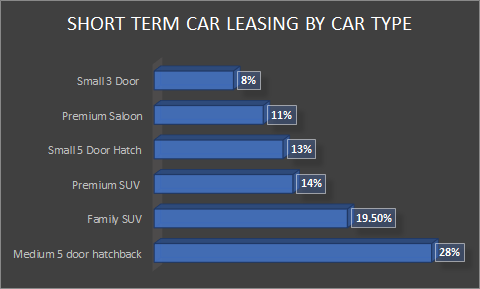 For reference, here are some examples of car makes and models that would sit within each vehicle group type:
Medium 5 door hatchback = Volkswagen Golf / Vauxhall Astra / Ford Focus
Family SUV = Kia Sportage / VW Tiguan / Peugeot 3008 / Nissan Qashqai
Premium SUV = Volvo XC60 / Mercedes GLC / Audi Q5 / BMW X3
Small 5 Door Hatch = Vauxhall Corsa / Citroen C3 / Toyota Yaris
Premium Saloon = Mercedes C Class / BMW 3 Series / Audi A4 / Jaguar XE
Small 3 Door = Fiat 500 / Toyota Aygo / Hyundai i10
Key takeaways
On average the market goes for contracts of 4.5 months in duration with popular vehicle types being medium 5 door hatchback and family SUV. Car leasing consumers like the versatility of choosing a car for a few weeks or months and then chopping and changing the vehicle type / duration from there. Whilst car subscriptions are a clear trend within automotive, short term car leasing allows the motorist to quickly get or return a car - with lower maintenance overheads.
Paul Brown, Managing Director
Paul Brown is the owner and managing director of short term vehicle leasing company Cars on Demand, based in Leeds, West Yorkshire. With a background in working in large scale car rental, Paul has developed the short term car lease market which continues to grow in popularity.