Survey on commuting attitudes and car leasing trends for 2021
Lockdown restrictions are easing and workplaces are beginning to think about reopening. Because of this, we wondered how people would feel about returning to the office after a year of working from home. As a result, we surveyed more than 1,000 UK office workers to discover how they thought their working habits would change over the next year. The results? An astounding number of people told us that they no longer want to work in the office from Monday to Friday.
Here's what our respondents told us about their working plans and what this might mean for the car leasing market.
Brits want long weekends to continue
The headline result from our survey was that Brits are now used to enjoying long weekends at home. Overall, 65.3% of respondents told us that they plan to keep working at home on Fridays when their office reopens, while 65.0% told us the same thing about Mondays. By contrast, only 30.6% of people we surveyed told us that they'd prefer a full-time return to work.
However, our survey results also showed us that attitudes to working and commuting also vary depending on the location of the person surveyed. For example, respondents from Sheffield and Liverpool were most in favour of continuing to work from home on a part-time basis in a post-pandemic world, while respondents from London and Cardiff were far less enthusiastic about the idea.
How will people commute in 2021?
76% of the people we surveyed own a car and more than half (54%) told us they use their vehicle to get to and from work. Although 73% of people told us that lockdown hadn't changed the way they commuted, we wondered whether this was really the case. So, we took a close look at the data.
From our data, it appears as though the coronavirus pandemic has completely changed the cars that people are leasing. For example, although 29% of people leased medium-sized five-door cars in 2019, only 10% did so in 2020. Similarly, although 11% of people chose premium saloon cars in 2019, only 4% did so in 2020. Instead, people upsized their family vehicle. As a result, 47% of people chose to lease either a small SUV, family SUV or premium SUV in 2020.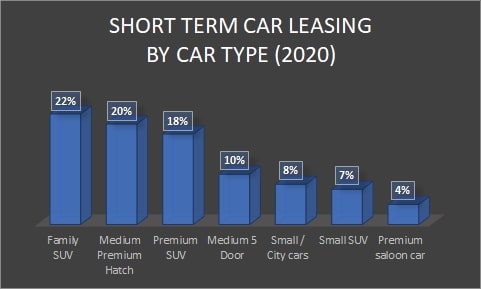 As a result of this, five-door hatchbacks like the Peugeot 308, Vauxhall Astra and Ford Focus are set to be scarcer on Britain's roads over the coming year, while large SUVs like the Skoda Karoq, SEAT Ateca and VW Tiguan are set to be far more popular. However, because people have saved considerable sums of money by not commuting over the past year, many people will likely also upgrade to SUVs in the premium and luxury sectors of the market in 2021, such as the Audi Q5, Volvo XC60, Range Rover Sport and Mercedes GLE.
With lockdown now coming to an end and people returning to work and school, we expect to experience an increase in enquiries. This is because people will restart travelling but will also require a flexible solution.
What are the latest attitudes to electric vehicles?
The latest hot talk around electric vehicles is across various regions of the UK as different cities battle it out to become the leading geographical points for more charging point installations. Canterbury City Council are just one of many promising to install hundreds of electric charging points.

Demand for electric vehicles is steadily increasing but in parallel to the number of electric charging points (none-rapid), this is still extremely slow.

According to Zap-Map, where public charging points are concerned, there are 14,922 installed. The number of devices at these locations is 23, 310 and the complete total number of connectors within these devices is 40,132, (data correct as of April 21st 2021).
Cars On Demand can reveal that from the commuters surveyed in Northern Ireland, 50% said they want a hybrid/electric. But the number of charging stations is still extremely low according to Zap-Map. (327 stations - 1.4%).
Interestingly, the research we conducted showed that Zap-Map reveals London to have 7,251 charging stations (31.1%), just under a third in total, but from the commuters surveyed, they believe there are not enough charging stations, with 39.8% stating concerns over the number of stations as a core reason for not taking up an electric vehicle.

42% of the 1,000 commuters surveyed said they are not considering a hybrid/electric vehicle, whilst 45% are looking to change to a hybrid/electic.

Is the demand really there on this basis? Could the flexible car leasing of electric vehicles be a suitable way to lead drivers into trying this vehicle type for the future?
After all, flexible car leasing provides consumers with flexibility in uncertain times. This is because factors like hire periods and mileages can be tailored to suit each individual. Whether you need a car for just one month or for a couple of years, you can find a car that suits your lifestyle. We're happy to discuss you trying to the car before leasing when it is safe to do so. Plus, at the end of the hire period, all you need to do is return the vehicle and the process starts again. There's never a need to worry about depreciation. Take a look at the vehicles available today to get started.